Bathroom Remodeling Services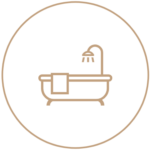 Bathroom Renovations / Bathroom Remodeling
Bring Your Vision To life
Remodeling a bathroom can be tricky especially if the home only has one bathroom. On top of that, it is often the room that contains the most water damage in your home. At Wakes Carpentry we pride ourselves on bringing our customers vision to life as well as handling all potential issues such as water damage during the process. We don't just cover up problems, we fix them with great care.
Recent Bathroom Remodeling Projects
Following is snapshot of some bathroom renovations we have recently completed. If you are starting the bathroom remodeling or renovation process and have questions that need answering, please contact us, we're here to provide as much guidance as possible.